Skip to Content
A Comprehensive Personal Training Experience
At Wellstar Fitness, we develop wellness programs and services that boost the health of our members and deepen their understanding of mental and physical fitness. Our experienced team of personal trainers is sourced from renowned fitness organizations, colleges, and universities across the country. These top-notch fitness professionals provide excellent member service customized to client-specific needs. Through the lenses of health and fitness science, our trainers will guide you to better health. You're bound to find the perfect personal trainer for you at our fitness centers.
Request Personal Training at Health Place
Three Advantages of Our Training Services
Whether you're new to personal training or a seasoned athlete, we have a personal training program that is right for you—with capable and experienced professionals at your service.
Special Training Packages
Every member wants something different from their experience. That's why our trainers customize our services that meet the needs of each member. Whether you're a beginner or an expert, we'll create a training package customized for your needs.
You Get to Know Our Trainers
Our team guides you through every step and move in your training journey. You'll familiarize yourself with your trainer on a personal and professional level. Likewise, your trainer will get to know you better, which will help them understand your needs better.
Diverse Training Protocols
We instruct a wide array of personal training practices and techniques. Our cross-functional approach ensures that you'll be skilled and versatile in your fitness abilities.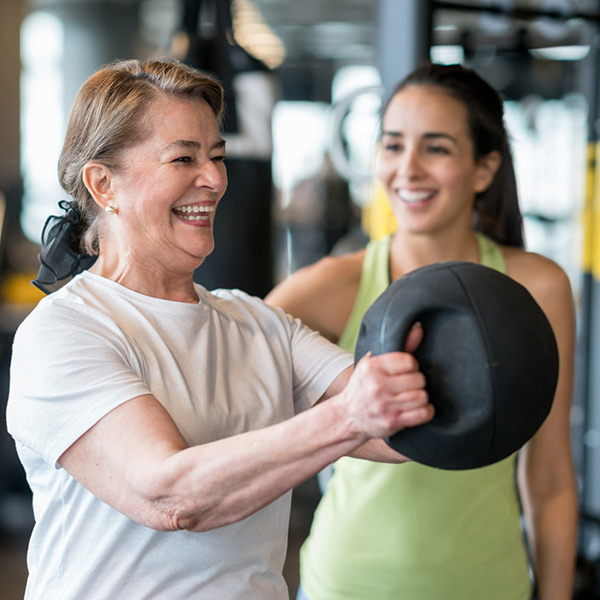 A Customized Personal Training Program Awaits You
We are devoted to creating specialized programs that meet your needs. We understand your unique training requirements and abilities and incorporate them into your training program. If you're ready to enhance your health and wellness, learn more about how our professional trainers can service you. We have the skills and background necessary to make your personalized experience genuinely suitable for your needs. You'll benefit from your training program for years to come.
Members Receive 10% Off All Personal Training Packages
1 Hour Sessions
Individual Rates
1 session – $60.00
5 sessions – $275.00
10 sessions – $500.00
20 sessions – $900.00
Couple Rates
1 session – $90.00
5 sessions – $412.50
10 sessions – $750.00
20 sessions – $1,350.00
30 Minute Sessions
Individual Rates
1 session – $45.00
5 sessions – $200.00
10 sessions – $350.00
20 sessions – $600.00
Couple Rates
1 session – $67.50
5 sessions – $300.00
10 sessions – $525.00
20 sessions – $900.00
We're Here to Help You Live Healthier