Skip to Content
Discover the Dietitian Difference
Licensed Professional Dietitians
Dietitians are a professional class of nutritionists with years of education and experience to help you eat and live better. That's why we only partner with and recruit registered dietitians to instruct our comprehensive nutrition programs. We possess the required licenses and certifications for leading quality courses. You'll receive well-rounded nutrition education from the professionals at our wellness center. Welcome to a new era in your journey towards better nutrition, wellness, health, and happiness.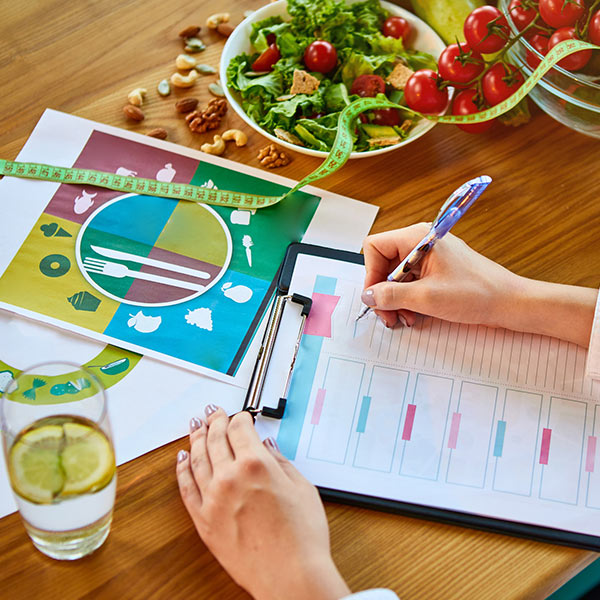 Dietitians Vs. Nutritionists: Four Key Differences
The differences between dietitians and nutritionists may seem subtle, but delve a little deeper, and you'll find that there are sharp distinctions between both roles. Our team consists exclusively of experienced dietitians who required high expectations and hard work to get where they are today.
What's Needed to Become a Registered Dietitian?
A College Degree
Dietitians are required to have a four-year degree from a college or university. Nutritionists don't require any education at all.
Extensive Internships
Dietitians must obtain a minimum of 1,200 hours in internship credit outside of college to gain real-world experience in their fields. Nutritionists do not.
Rigorous Testing and Exams
To become a registered professional, dietitians must pass the CDR exam offered by the Academy of Nutrition and Dietetics. Nutritionists require no such certification.
Continued Career Education
Though they're technically licensed professionals, the dietitians' education never ends. They must take continued education and professional development courses to maintain their licenses and advance their profession. Nutritionists don't.
Our Dietitians Are Ready to Serve You
With a whole staff of dietitians and experts at your service, you're guaranteed an unmatched and holistic approach to nutritional education like nothing you've experienced before. Our customizable and comprehensive programs will give you all the knowledge you need to live a healthier lifestyle. Whether at home or a restaurant, you'll be able to apply what you've learned in the kitchen and at the dinner table. We're here to help you thrive in your nutritional lifestyle.
We're Here to Help You Live Healthier